Getting injured in a truck accident is a frightening and stressful experience. Trucks are large, heavy vehicles that can cause wrongful death to occupants of passenger vehicles and pedestrians. Truck accidents victims are almost always left with serious injury, significant medical bills, lost wages, and perhaps even the inability to work again. A San Diego truck accident lawyer at Haffner & Morgan can help you receive rightful compensation.
Finding a way to deal with these financial pressures and emotional trauma can be stressful. At Haffner & Morgan, our San Diego truck accident lawyers will fight to make sure you get the just compensation you deserve. Our experienced truck accident attorneys can help advise on how to strengthen your case so you are in the driver's seat for negotiating your claim. Contact Haffner & Morgan today for your free consultation.
Why Hire San Diego Truck Accident Lawyers at Haffner & Morgan?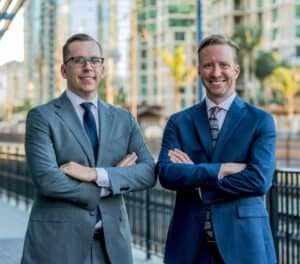 The personal injury attorneys at Haffner & Morgan are aggressive and dedicated to getting you the full compensation that you deserve. When you have been in a major or minor accident, our team is ready to help. Haffner & Morgan will launch an investigation into the circumstances surrounding your accident and work tirelessly to make the legal process as seamless as possible. Our San Diego truck accident attorneys have experience in a variety of car and truck accident cases, from t-bone collisions to rear-end accidents.
Relevant Case Results | 99% Success Rate
$3.5 million | T-bone accident and significant spine injuries
$1.48 million | Side impact vehicle collision settlement with major injuries
$1 million | Rear-end motor vehicle accident with neck and back injuries
$725k | Car accident settlement
$500k | Car accident settlement
$400k | Car accident settlement
San Diego Truck Accident FAQs:
Common Injuries in Truck Accidents
A truck accident occurs when a truck or other commercial vehicle causes an injury to another person, usually in another vehicle. Truck driving accidents can occur for many reasons, including, but not limited to: drivers who are under the influence of alcohol or drugs, distracted driving, speeding, or fatigued.
Truck accidents can vary in severity. In its most severe forms, a truck accident can lead to serious or even fatal injuries to passengers of the truck or other vehicles on the road. Some of the injuries include:
Damage to internal organs
Head and neck injuries
Abrasions
Limb amputations
Bone Fractures
How Common are Truck Accidents?
According to the National Highway Traffic Safety Administration, large trucks contributed to 9.8 percent of all fatal crashes nationwide in 2019. In California alone, 385 large trucks were involved in fatal truck crashes.
Around 13% of all traffic fatalities in the United States are from accidents involving commercial vehicles including trucks and buses. Approximately 7 out of 10 of every truck-related accident fatality happens to drivers and passengers of the other vehicle in the accident, not the truck driver.
Common Types of Truck Accidents
Trucks are large and unwieldy, with extended blind spots, long stopping times, and limited maneuverability. Some common types of truck accidents in San Diego and the surrounding region include:
Rollovers: commonly occurring from attempting too-sharp turns or from unbalanced loads

 Rear-end collisions: commonly caused by distracted driving

Head-on collisions: sometimes resulting from drowsy driving and drifting out of a lane

Jack-knife accidents: often from improper turns, sudden braking, or speeding on wet or icy roads

T-bone accidents or broadside crashes: caused by running a red light or failing to yield the right of way in an intersection

Sideswipe accidents: often from unsafe lane changes or improper merging

Wide-turn accidents: these occur when truck drivers verge left to avoid making a tight right turn, sometimes causing other vehicles to crash into or underneath the trailer
No matter what type of truck accident caused your injuries, if the accident was preventable if only the driver had taken the proper precautions you shouldn't be left holding the bag. You deserve justice and compensation for your damages.
Causes of Truck Accidents in San Diego
Though other parties may be at fault in a truck accident, by far the most common cause is driver error or negligent actions on the part of the truck driver including:
Distracted driving, especially due to texting, checking social media, setting a GPS, adjusting music, or eating while driving

Fatigued driving (truck drivers are required to drive long hours)

Lack of experience

Speeding

Driving under the influence

Failing to adjust speed for inclement weather conditions
Other causes of truck accidents may be improperly balanced loads, defective tires, defective trailer attachments, and poor truck maintenance.
Common Parties at Fault in Truck Accidents
Determining fault after a truck accident may be challenging. Police reports after an accident can help, but often they are limited in scope since police investigations focus only on criminality such as drunk driving. Independent investigation through accident reconstruction experts, eyewitness testimony, and other methods can help reveal who was at fault in a truck accident. A skilled truck accident attorney has the resources and knowledge to conduct this type of investigation. Often fault lies with the truck driver who may have experienced fatigue from many hours on the road. The driver of the other vehicle in a truck collision may be at fault if they failed to signal a turn or a lane change or disregarded traffic laws. In some cases, the fault may lie with a third party, such as when another driver's action forced a truck to have a collision with your vehicle
Who Can Be Held Liable After a Truck Accident?
In nearly all cases, any negligence on the driver's part can make them legally responsible for any resulting injuries. Sometimes, other parties may be potential defendants in a claim if their negligence led to the accident occurring. Other potential defendants you might be eligible to bring your claim against include:
Truck drivers
Trucking company
Company loading the truck rig
Manufacturer of the truck or parts
Government entities involved in the design and maintenance of the road
Other motorists if their actions caused or partially caused the collision
In most cases, truck accident claims involve large, corporate defendants who begin building a case against the injured almost immediately.  These entities have deep pockets and teams of lawyers working to minimize their financial liability.  For this reason, anyone who has been injured in a collision with a large commercial vehicle should speak with a San Diego truck accident attorney as soon as possible.
Proving Liability in Truck Accidents
Once your San Diego truck accident lawyer investigates the circumstances of your accident to identify the liable party, they will gather the evidence needed to prove liability. Proving liability in California's fault-based insurance system requires demonstrating the following on the part of the defendant:
That they owed a duty of care to take reasonable measures to prevent injury to others, such as a driver's duty to follow traffic laws or a parts manufacturer's duty to manufacture safe, reliable equipment

That they breached this duty through an act of negligence

That the negligence directly caused the injury

That you've suffered real damages from the injury
Once your attorney effectively demonstrates the above, they'll draft a compelling, evidence-backed demand letter to the appropriate insurance company with the goal of obtaining an ample settlement without the need for a courtroom. However, a diligent, determined attorney is ready to fight for your best interests in court if necessary to secure full compensation for your damages.
Damages in Truck Accidents Claims
Damages that a plaintiff brings in truck accidents can include both economic and non-economic claims. A plaintiff can also seek to be compensated for future medical damages. To receive compensation, the plaintiff is required to prove through evidence that the truck driver or other third party was negligent and that their negligence caused the accident.
Compensation for San Diego Truck Accidents
A collision with a large truck can have devastating consequences for your physical and financial well-being. The size and weight of an immense commercial truck make them particularly deadly during collisions with small personal vehicles. If you or a loved one experienced a truck accident in San Diego, you may be able to gain the following financial compensation for your damages:
Medical expenses and any future medical expenses for ongoing treatment

Lost income and future lost earnings

Pain and suffering

Loss of quality of life in cases that result in disability or impairment

Disfigurement compensation

Wrongful death
An experienced San Diego truck accident attorney can help you secure the financial resources you need to allow you to focus on your physical and emotional recovery after an accident.
What to do to Protect Yourself After a Truck Accident
A devastating truck accident may leave you unconscious or immobile at the scene, in which case you must completely rely on others. However, if you are able to safely move after an accident with a truck you can protect yourself by taking the following steps:
Move out of the road and onto the shoulder or to a safe location out of traffic

Call 911 to report the accident

Render reasonable care or comfort to any other victims at the scene while you wait for help

Use your phone to take pictures of the accident scene, the truck, and any other involved vehicles or obstacles. Be sure to include relevant factors such as road signs or traffic signals

Record the contact information of witnesses 

Allow first responders to transport you to a hospital or go to an emergency room as soon as possible

Ask for detailed medical notes and tell the doctor about all of your symptoms

Follow all doctor recommendations for treatment

Ask for a copy of the police report

Contact a San Diego truck accident attorney
It may be difficult to keep a cool head during the aftermath of a traumatic truck or car accident in San Diego but you can protect your physical health and financial recovery by taking these steps.
How Long Do I Have to File a Claim?
California has a 2-year statute of limitations for accident claims, including truck accidents. This means you have two years to file a claim. In some cases, it takes time for injured victims to recover physically enough to fully comprehend the financial toll the accident took on their lives. Unfortunately, if you try to file a claim after the statute of limitations runs out it's likely to be dismissed.
For people who are under the age of 18 when they're injured, the 2-year statute of limitations begins on the day they turn 18. Incapacitated victims begin their 2-year time limit once they regain their mental abilities.
Recovering After a Truck Accident
Any motor vehicle accident can cause serious and even catastrophic injuries or death, but truck accidents are especially hazardous and traumatic. Recovering from a truck accident can be challenging. Some injuries may leave victims with temporary or permanent disabilities. Still, it's important to maximize your physical recovery to the best possible extent after a truck accident while your truck accident attorney focuses on maximizing your financial recovery so you are ready to move forward. The best road toward recovering physically and emotionally from the severe trauma of a truck accident includes some of the following suggestions by medical experts:
Accept that healing takes time and care and that you may have to find a new normal once you've healed

Understand that healing may require multiple surgeries and lengthy recovery periods

Understand that you may be left with chronic conditions and disabilities that require monitoring as you go forward

Choose the best possible specialists in the field of your injury

Follow through with your doctor's recommended treatment plan

Keep a pain journal and chronicle your road to recovery

Get plenty of rest

Ask your doctor for a referral to a nutritionist who can tailor a healthy diet for your individual needs after your accident to maximize your healing potential

Seek counseling for PTSD, anxiety, or depression
Studies show that it takes a great deal of support to recover from a serious accident like a truck accident.
Proudly Serving San Diego Neighborhoods
La Mesa | El Cajon | Clairemont | North Park | South Park | Old Town | Point Loma | Balboa Park | Bankers Hill | East Village | Mission Valley | Normal Heights | Hillcrest | Little Italy | University Heights | Gaslamp Quarter | Mission Hills | Bay Park | Bay Ho | Pacific Beach | La Jolla | Torrey Pines | Encinitas | Solana Beach |
Contact Haffner & Morgan Today For  San Diego Truck Accident Lawyers Who Will Fight For You
Trucks can be deadly vehicles that require proper maintenance and handling. At Haffner & Morgan, our San Diego personal injury lawyer have helped clients recover compensation in truck accidents. Our clients have brought cases involving various types of trucks, including semi-trucks, tractor-trailers, buses, and other commercial vehicles. We bring our years of experience to assemble the evidence that will be used to show the defendants that we mean business. We understand how devastating a truck accident can be, and we will do everything in our power to make sure you go to bed at night knowing there is a team working around-the-clock to fight on your behalf. Contact Haffner & Morgan today for a free consultation with a San Diego truck accident lawyer.
---
Client Testimonial: 5/5
★ ★ ★ ★ ★
"I was 19 weeks pregnant when my friend and I were rear-ended by a truck that throttled is into another truck and the car was crushed in from both ends. Tim and his team did an excellent job helping us navigate the insurance claim process. They truly cared about us and I was more than happy with the settlement amount they recovered on our behalf. If you are ever unfortunate enough to be in a car accident, call these guys!"
Amy E.
Click here for more testimonials.