Getting injured in a truck accident is a frightening and stressful experience. Trucks are large, heavy vehicles that can cause wrongful death to occupants of passenger vehicles and pedestrians. Truck accidents victims are almost always left with serious injury, significant medical bills, lost wages, and perhaps even the inability to work again. A San Diego truck accident lawyer can help you receive rightful compensation.
Finding a way to deal with these financial pressures and emotional trauma can be stressful. At Haffner & Morgan, our San Diego truck accident lawyers will fight to make sure you get the just compensation you deserve. Our experienced truck accident attorneys can help advise on how to strengthen your case so you are in the driver's seat for negotiating your claim. Contact Haffner & Morgan today for your free consultation.
San Diego Truck Accident FAQs: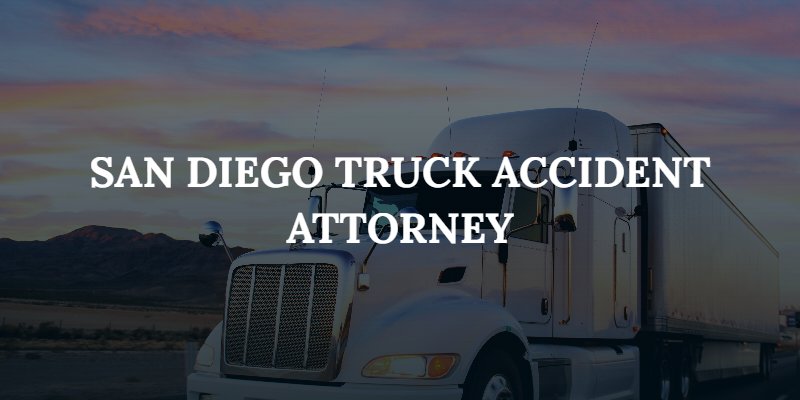 Common Injuries in Truck Accidents
A truck accident occurs when a truck or other commercial vehicle causes an injury to another person, usually in another vehicle. Truck driving accidents can occur for many reasons, including, but not limited to: drivers who are under the influence of alcohol or drugs, distracted driving, speeding, or fatigued.
Truck accidents can vary in severity. In its most severe forms, a truck accident can lead to serious or even fatal injuries to passengers of the truck or other vehicles on the road. Some of the injuries include:
Damage to internal organs
Head and neck injuries
Spinal Injuries
Abrasions
Limb amputations
Bone Fractures
How Common are Truck Accidents?
According to the National Highway Traffic Safety Administration, large trucks contributed to 9.8 percent of all fatal crashes nationwide in 2019. In California alone, 385 large trucks were involved in fatal truck crashes.
Common Parties at Fault in Truck Accidents
Determining fault after a truck accident may be challenging. Police reports after an accident can help, but often they are limited in scope since police investigations focus only on criminality such as drunk driving. Independent investigation through accident reconstruction experts, eyewitness testimony, and other methods can help reveal who was at fault in a truck accident. A skilled truck accident attorney has the resources and knowledge to conduct this type of investigation. Often fault lies with the truck driver who may have experienced fatigue from many hours on the road. The driver of the other vehicle in a truck collision may be at fault if they failed to signal a turn or a lane change or disregarded traffic laws. In some cases, the fault may lie with a third party, such as when another driver's action forced a truck to have a collision with your vehicle
Who Can Be Held Liable After a Truck Accident?
In nearly all cases, any negligence on the driver's part can make them legally responsible for any resulting injuries. Sometimes, other parties may be potential defendants in a claim if their negligence led to the accident occurring. Other potential defendants you might be eligible to bring your claim against include:
Truck drivers
Trucking company
Company loading the truck rig
Manufacturer of the truck or parts
Government entities involved in the design and maintenance of the road
Other motorists if their actions caused or partially caused the collision
In most cases, truck accident claims involve large, corporate defendants who begin building a case against the injured almost immediately.  These entities have deep pockets and teams of lawyers working to minimize their financial liability.  For this reason, anyone who has been injured in a collision with a large commercial vehicle should speak with a San Diego truck accident attorney as soon as possible.
Damages in Truck Accidents Claims
Damages that a plaintiff brings in truck accidents can include both economic and non-economic claims. A plaintiff can also seek to be compensated for future medical damages. To receive compensation, the plaintiff is required to prove through evidence that the truck driver or other third party was negligent and that their negligence caused the accident.
Compensation for San Diego Truck Accidents
A collision with a large truck can have devastating consequences for your physical and financial well-being. The size and weight of an immense commercial truck make them particularly deadly during collisions with small personal vehicles. If you or a loved one experienced a truck accident in San Diego, you may be able to gain the following financial compensation for your damages:
Medical expenses and any future medical expenses for ongoing treatment

Lost income and future lost earnings

Pain and suffering

Loss of quality of life in cases that result in disability or impairment

Disfigurement compensation

Wrongful death
An experienced San Diego truck accident attorney can help you secure the financial resources you need to allow you to focus on your physical and emotional recovery after an accident.
What to do to Protect Yourself After a Truck Accident
A devastating truck accident may leave you unconscious or immobile at the scene, in which case you must completely rely on others. However, if you are able to safely move after an accident with a truck you can protect yourself by taking the following steps:
Move out of the road and onto the shoulder or to a safe location out of traffic

Call 911 to report the accident

Render reasonable care or comfort to any other victims at the scene while you wait for help

Use your phone to take pictures of the accident scene, the truck, and any other involved vehicles or obstacles. Be sure to include relevant factors such as road signs or traffic signals

Record the contact information of witnesses 

Allow first responders to transport you to a hospital or go to an emergency room as soon as possible

Ask for detailed medical notes and tell the doctor about all of your symptoms

Follow all doctor recommendations for treatment

Ask for a copy of the police report

Contact a San Diego truck accident attorney
It may be difficult to keep a cool head during the aftermath of a traumatic accident but you can protect your physical health and financial recovery by taking these steps.
How Long Do I Have to File a Claim?
California has a 2-year statute of limitations for accident claims, including truck accidents. This means you have two years to file a claim. In some cases, it takes time for injured victims to recover physically enough to fully comprehend the financial toll the accident took on their lives. Unfortunately, if you try to file a claim after the statute of limitations runs out it's likely to be dismissed.
For people who are under the age of 18 when they're injured, the 2-year statute of limitations begins on the day they turn 18. Incapacitated victims begin their 2-year time limit once they regain their mental abilities.
Contact Haffner & Morgan Today For  San Diego Truck Accident Lawyers Who Will Fight For You
Trucks can be deadly vehicles that require proper maintenance and handling. At Haffner & Morgan, we have helped clients in San Diego recover compensation in truck accidents. Our clients have brought cases involving various types of trucks, including semi-trucks, tractor-trailers, buses, and other commercial vehicles. We bring our years of experience to assemble the evidence that will be used to show the defendants that we mean business. We understand how devastating a truck accident can be, and we will do everything in our power to make sure you go to bed at night knowing there is a team working around-the-clock to fight on your behalf. Contact Haffner & Morgan today for a free consultation with a San Diego truck accident lawyer.