Seek a Personal Injury Attorney Who Will Fight For You
If you or a loved one have been seriously injured in a preventable accident, you need experienced legal representation.  A serious injury can lead to pain and suffering, significant medical expenses, temporary or permanent disability, and negatively impact your ability to work and earn income. You need a San Diego personal injury lawyer to fight for your case to ensure you receive rightful compensation.
While these unfortunate events are traumatic, a San Diego personal injury attorney can help to ease your anxiety over financial concerns and help ensure that you get the compensation you need to move forward.  At the Haffner & Morgan personal injury law firm, our San Diego personal injury lawyers will work tirelessly to get you the help you need and maximize your financial recovery. Contact us for your free consultation today.
San Diego Personal Injury FAQs:
What Is Personal Injury Law?
California's personal injury law deals with litigation related to accidents and injuries resulting from someone else's negligence. Not only do we expect a certain duty of care from those around us, whether they're other drivers on the road or medical professionals responsible for our care, but in some circumstances people actually have a legal obligation to adhere to expected standards of behavior that don't put others at risk. Those who are injured as the result of someone not adhering to those standards have the right to pursue legal claims against the negligent person or entity in order to gain monetary compensation for their economic and non-economic damages. In most cases, these claims settle out of court through negotiations with the defendant's insurance company. A skilled, diligent San Diego personal injury lawyer can help you get the best possible outcome for your claim or advocate on your behalf should the case go to court.
Why Choose Haffner & Morgan Personal Injury Lawyers?
Haffner & Morgan's injury attorneys have experience representing clients in a wide range of personal injury cases, including: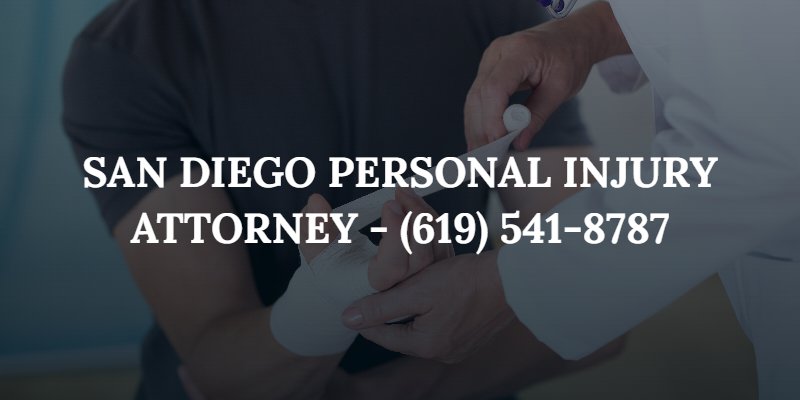 Common Causes for Personal Injury Claims?
According to the CDC, in 2019 approximately $4.2 trillion dollars was spent treating personal injury cases from harm caused by the negligence or wrongdoing of another party, a total based on medical treatments, lost wages, and lowered quality of life. Some common examples of causes for personal injury cases include the following:
Traffic accidents, including car, truck, Uber, Lyft, motorcycle, and pedestrian accidents, are by far the most common types of personal injury causes

Slip and fall accidents (premises liability cases)

Medical malpractice accidents

Defective product accidents

Workplace accidents

Dog bites/attacks

Mass tort cases such as asbestos-related illnesses

Boating injuries
While these are by no means the only personal injury cases that come to court, these are some of the most common claims for cases where another person or entity was clearly at-fault for a preventable injury caused to another.
What Types of Injuries Are Common Grounds for a Personal Injury Claim?
Successful settlement demands and court litigation for personal injury claims often arise from serious injuries that can have life-altering effects on the injured party, including both economic and non-economic ill effects. Some of the most common injuries that these cases address include the following:
Neck and back injuries, including whiplash

Traumatic brain injuries ranging from moderate to severe concussions to brain bleeds and permanent disabilities

Spinal cord injuries

Fractures

Burns

Scarring and disfigurement

Amputations

Blunt force trauma with organ damage

PTSD, anxiety, depression, and emotional anguish
These physical and emotional injuries may have life-altering effects that are either temporary, long-lasting, or permanent. Those who suffer them due to the reckless actions or careless negligence of another deserve compensation for the economic and non-economic damages they've caused.
The Statute of Limitations in San Diego Personal Injury Cases
The Statute of Limitations refers to the time period in which a personal injury claim must be filed. Under California law, the statute of limitations is typically 2 years with some limitations causing the time frame to be shorter or longer.  A San Diego personal injury attorney from Haffner & Morgan can help you get your filing in order so you don't miss this deadline.
What Does a San Diego Personal Injury Lawyer Do?
Personal injury law is complex and involves substantial sums of money. A San Diego personal injury lawyer represents you in the case of an accident, addressing the legalities of your claim while you focus on your recovery. Insurance companies exist to make profits and typically try to low-ball payouts or deny claims completely for a variety of reasons. A skilled personal injury lawyer knows how to best represent your case either in negotiations for a settlement or in a courtroom. A San Diego personal injury lawyer aids and accident victim in the following ways:
Works on a contingency basis to investigate claims

Gathers evidence to support injury claims, such as police reports, witness statements, employment records, doctor's notes, and medical bills

Sends a demand letter to the defendant's insurance company for a sum that covers the claim

Prepares complaints against defendants if negotiations with the insurance company are not successful

Represents clients in court to argue aggressively for full compensation for their injuries.
If you were injured in an accident that was someone else's fault, the attorneys at Haffner & Morgan can evaluate your claim and provide the representation you need through the entire claims process, beginning with negotiating a settlement after gathering evidence.
Negotiating on a Settlement
A settlement is the process of dealing with personal injury cases outside of court. It is not yet a lawsuit. The plaintiff can negotiate with the defendant. After the settlement is reached, you will sign an agreement that you will no longer take the case to court. On average, personal injury settlements range from $3,000 to $75,000.
Common Tactics Insurance Providers Use to Deny Claims or Lower Settlements
An experienced personal attorney understands how to negotiate the best possible settlement in your personal injury case because they are fully versed in the tactics that insurance companies commonly use to undervalue claims or deny them outright. These providers have a business model that relies on profits made by taking in more money in premiums than they pay out in claims and settlements. For this reason, insurance adjusters have the job responsibility to find reasons to devalue your personal injury claim. Some common tactics they use include the following:
Calling you very soon after an accident with a low-balled settlement offer before you may even be aware of the extent of the physical, financial, and emotional damages related to your injury

Recording phone conversations and using your words out of context against you later, despite coming across as concerned and friendly during the call

Asking for medical authorization to review your medical records under the guise of examining evidence of your injury and then seeking through past records to find reasons to claim your pain is due to a pre-existing condition; for example, a previous complaint of back pain even if it was years prior to the accident

Claiming your injury can't possibly be from the accident; for example, when a vehicle sustains only minor damage but causes you severe whiplash with ongoing related pain and neurological effects

Disputing some of your medical treatments as unnecessary 

Prolonging and delaying the process in order to wear you down so you're more likely to accept a low settlement offer
It's best to direct all communications with insurance companies directly to your lawyer and don't answer their questions. Avoid posting on social media until your claim is settled. Even if you have severe neck pain but manage to smile for a photo at a tailgating party this could be used against you as a way of attempting to show that you've exaggerated your injury claim. 
What Are Some Recoverable Damages in Personal Injury Cases?
If a settlement cannot be reached, a personal injury victim can proceed to bring the case to court.  Compensation for accident damages might include:
Medical expenses
Expenses for property damage (cars, bikes, etc) and irreplaceable items
Lost Wages
Pain and suffering costs
Lowered quality of life costs
Impairment costs
In some cases, punitive damages
What are Punitive Damages?
In accident cases involving particularly egregious behavior on the part of the defendant such as extreme acts of recklessness, a jury could award punitive damages. These are non-economic damages intended to "punish" the at-fault party and to deter them from repeating the reckless or malicious behavior. While some states place caps on the amount of punitive damages a judge or jury can award, California's Civil Code 3294 does not place caps or limits on punitive damages. However, The United States Supreme Court prohibits excessive punitive damages and requires that these damages remain reasonable and in proportion to the harm caused by the plaintiff's actions.
You can ask a lawyer if punitive damages might apply to your personal injury case in California.
Ways a San Diego Personal Injury Lawyer Can Assist You
Some ways a San Diego personal injury attorney can assist might include:
Investigating your claims to determine if your case worth taking to court
Gathering evidence
Sending a demand letter to defendant
Protecting you from settling early with insurance companies
Preparing motions and pleadings
Representing you through trial
Steps You Can Take After an Accident to Help Your Personal Injury Case 
If you experience an accident, it's important to seek medical help as soon as possible. Report the accident to the police and request a copy of their report. Ask your doctor to take detailed records and be sure to report all of your injuries and every symptom. If you're physically able to record witness names and statements with your phone, it will help the investigation later. Be sure to do the following:
Keep track of all medical reports and bills

Request copies of witness statements and police reports

Take photos of the accident scene if at all possible

Follow your doctor's orders and keep every appointment for follow-ups and recommended treatment and rehabilitative therapies

See a therapist if you experience any symptoms of Post Traumatic Stress Disorder (PTSD)
Your actions following an accident can help your lawyer to prove your case in order to obtain a settlement or to represent your interests in court. 
Contact Haffner & Morgan Today
If you or someone you love has suffered a personal injury due to the negligence of someone else, the Haffner & Morgan legal team we fight for you in your personal injury claims to get you the compensation you deserve. A personal injury can hinder your ability to live your life, and our law firm wants to help you get back to living as soon as possible.
Our San Diego personal injury attorneys will make sure you get the best representation to take your case on. Contact us today for your free consultation.