Choose A San Diego Brain Injury Attorney Who Will Fight For You
A traumatic brain injury (TBI) can have a devastating impact on a victim. Due to the importance of the brain in bodily function, a TBI can result in impairment in one's capacity to earn a living, breathing, cognitive abilities, and motor function. Survivors may experience long-term injuries, expensive rehabilitation and support needs due to physical, cognitive, emotional, linguistic, and psychological problems. At Haffner & Morgan, our San Diego brain injury lawyers fight for our clients to get the justice they deserve.
A victim of a TBI has the opportunity to bring a claim against the party who caused their injury. Given the financial impact that a TBI can have, legal action can be an important way for the victim's family to be able to care for their loved one's injuries. Medical expenses, modifications for quality of living, and lost wages can all be potential damages a plaintiff can claim. Our San Diego traumatic brain injury attorneys will do all that we can to give you the confidence that the law is on your side. Contact Haffner & Morgan for your free consultation today.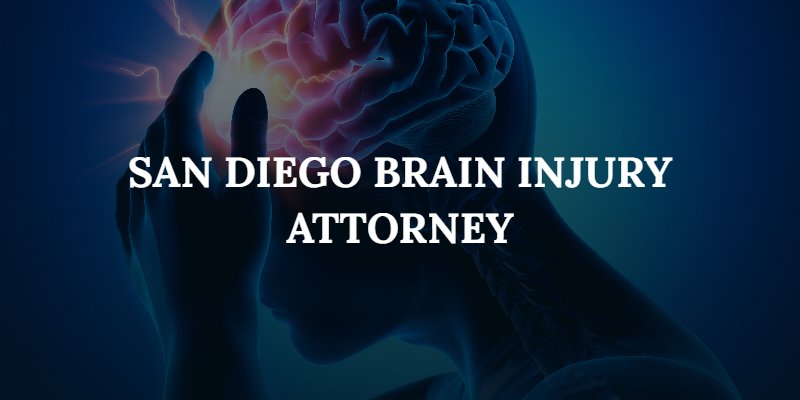 Types of Traumatic Brain Injuries
Traumatic Brain Injury (TBI) is a disruption in the normal function of the brain that can be caused by a blow, bump or jolt to the head, the head suddenly and violently hitting an object or when an object pierces the skull and enters brain tissue. Observing one of the following clinical signs constitutes alteration in the normal brain function:
Loss of or decreased consciousness
Loss of memory for events before or after the event (amnesia)
Focal neurological deficits such as muscle weakness, loss of vision, change in speech
Alteration in mental state such as disorientation, slow thinking or difficulty concentrating
Symptoms of a TBI can be mild, moderate, or severe, depending on the extent of damage to the brain. Mild cases may result in a brief change in mental state or consciousness. Severe cases may result in extended periods of unconsciousness, coma, or even death.
Seizures may occur sporadically or repeatedly
When considering whether to bring a brain injury lawsuit, a brain injury attorney needs to take the time to really understand the brain injury victim and the type of traumatic brain injury that they have. This is all done with the end goal of helping the client recover from their traumatic brain injury, and get as close as possible to the state they were in prior to the injury. Read here for more information on the different types of traumatic brain injuries.
Traumatic Brain Injury Causes
The main causes of Traumatic Brain Injury (TBI) depend on the type of head injury:
Slip and Falls. This is the most common cause in adults age 65 and older
Motor vehicle crashes. This is the most common cause in young adults
Sports injuries
Being struck by an object
Child abuse. This is the most common cause in children under age 4
Blast injuries due to explosions
Medical malpractice injuries
Work-related injuries
A brain injury lawyer should be able to create a roadmap from the cause of a brain injury to its treatment, and finally the client's recovery for their brain injury.
What Qualifies as Brain Damage?
Brain damage is an injury to the brain that harms delicate brain tissue. Brain damage results from head trauma, a lack of oxygen to the brain, intracranial bleeding, or infection. Brain damage occurs from either a traumatic brain injury from outside forces impacting the head, a sudden jolt to the head, penetration through the skull, or through an acquired brain injury (ABI) from a neurological illness or pressure from a tumor. Brain damage is associated with a number of impairments including the following:
Functional abnormalities

Behavioral abnormalities
Brain damage can have negative impacts on processing speed, memory, speech, language comprehension, understanding, emotional regulation, concentration, and behavior.
What Are Common Brain Injury Symptoms?
Brain injuries are more common than most people realize, and they often go undiagnosed. The CDC estimates that more than 1.5 million people suffer a brain injury each year. Of those, 85,000 suffer a long term disability; 50,000 die. Severe head trauma can impair physical and cognitive functions or even render the victim comatose, but even seemingly minor accidents can lead to serious brain injuries. Serious brain injuries can result from seemingly insignificant events. Know the signs and symptoms in order to diagnose and treat a head injury as quickly as possible:
Dizziness
Memory loss
Headaches
Nausea
Changes in vision or hearing
Sleep problems
Slurred speech, trouble finding words
Emotional changes, depression, etc.
A medical evaluation can be a crucial piece of evidence for a victim's recovery. By officially documenting a professional healthcare provider's opinion on injuries, a victim can argue the extent of damages and prove that damages were due to the negligence or recklessness of the defendant.  It is vitally important that your attorney understand both the legal issues involved in your brain injury case and what you will need moving forward.  Brain injury victims only get one chance at a settlement or lawsuit.  If your attorney does not fully understand the extent of your injuries and your medical needs both now and in the future, you may end up accepting an offer that is woefully inadequate for your needs.  This can include modifications to your home, ongoing physical therapy, in home care, and more.
Read here for more information on how traumatic brain injuries occur and the symptoms that result.
Recovering from a Traumatic Brain Injury
The recovery process and prognosis for those suffering from a TBI depend on the severity of the injury. A mild TBI, such as a concussion, doesn't typically cause lasting damage unless the injury occurs repeatedly. Most mild TBI patients recover fully within 3 months.
A moderate TBI may require treatments such as surgery, occupational and physical therapies, and psychological services, but typically results in the recovery of all or most of the brain function.
A severe TBI has more long-term effects with the severity depending on the location of the trauma, the amount of tissue damaged and the length of a coma. Some severe brain injuries result in long-term impairment, disability, or death.
Grounds For San Diego Brain Injury Claims
Not every brain injury is actionable. For instance, a slip and fall in your own bathtub would result in your own medical insurance company covering your treatment under the terms of your policy. However, if your traumatic brain injury occurred as the result of someone else's negligence, you have an actionable claim. In order to have a successful claim for a brain injury you must prove the following:
The defendant was required by law to exhibit a reasonable duty of care. For example, drivers must obey traffic signals and speed limits, storeowners must keep their premises safe, and medical professionals must practice the highest standards of care.

The defendant failed in their duty of care 

That failure to act with reasonable care resulted in the plaintiff's brain injury

That the injury victim experienced financial, physical, and emotional losses due to the brain injury
Lawsuits require definitive proof, which can be difficult with the complexities around brain injuries which may be difficult to detect, measure, and predict. A diligent attorney can help to navigate the legalities of brain injury claims and gather evidence to prove your case.
How a Brain Injury Lawyer at Haffner & Morgan Can Help
Experienced brain injury attorneys in San Diego can help prepare you or your loved one's case first by interviewing you about how the injury occurred. They may also speak to witnesses since a TBI may impair a victim's memory of the incident. They'll ask about medical treatment plans and gather pertinent documents relating to your or your family member's diagnosis, prognosis, and future treatments. These records include:
Accident reports and police reports

Eye-witness statements

Newspaper articles about the accident or incident

Paystubs indicating the normal pay you or your loved one will lose during treatment and rehabilitation or permanent job loss for impairment or disability resulting from the TBI
These documents and records are all examples of evidence proving losses in your case as well as the negligence of the at-fault party.
The cost, time, and stress that results after a traumatic brain injury is often overwhelming. If you believe your injury was the result of another's negligence, or if you have insurance that you believe should cover your injury, the San Diego personal injury attorneys at Haffner & Morgan can help you in both your financial and physical recovery. Consultations are available at no cost to you, and no fees are taken unless you obtain a settlement or positive jury verdict. Contact us here, or call (619) 541-8787.