Why Choose Motorcycle Accident Lawyers Haffner & Morgan?
When struck by larger passenger vehicles like trucks and cars, motorcyclists typically bear the brunt of the collision.  Negligent drivers who fail to abide by the laws intended to protect motorcyclists should be held accountable for their actions. Motorcyclists have the right to share the roadway with car vehicles. Reckless drivers can present a fatal risk to motorcyclists. The motorcycle accident attorneys at Haffner & Morgan law firm have years of experience in helping the victims of motorcycle accidents get compensated. We provide free initial consultations and all of our motorcycle accident cases are taken on a contingency basis.  Contact our San Diego motorcycle accident attorneys for your free consultation today.
San Diego Motorcycle Accident Resources
Common Causes of Motorcycle Accidents
Motorcyclists are more likely to be injured than car or truck drivers. Due to the lack of protection a smaller-framed vehicle presents, motorcycle accidents are more likely to be fatal. Drivers who do not maintain a safe distance from motorcycles place the motorcyclist in greater danger than a typical driver. The most common causes of motorcycle accidents are:
Inattentive driving
Speeding
Alcohol or drug use
Disobeying traffic laws
Defective motorcycle or vehicle
Recent studies show that more than half of all motorcycle accidents involving another vehicle are caused by the driver of the other vehicle. Motorcycle riders know the risks of the road, and most take safety precautions to avoid accidents. That being said, the reality is that even when bikers make sure they are taking safety precautions, they cannot prevent the actions of other negligent drivers.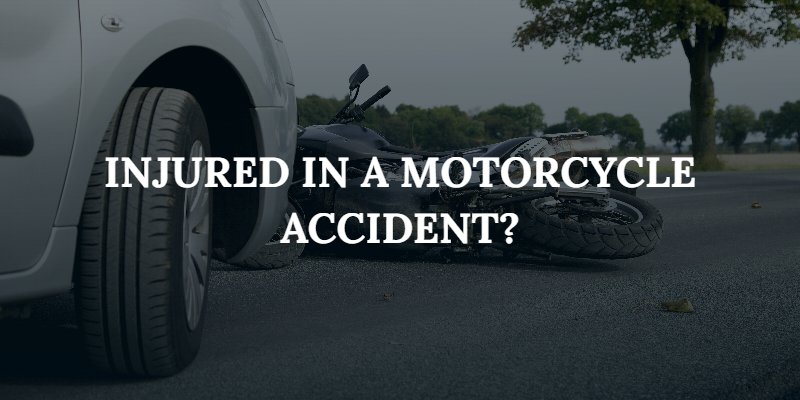 Common Motorcycle Accident Injuries
The severity of motorcycle injuries depends on the speed during the crash, the size and weight of the other vehicle in a collision, and the size of the motorcycle. Injury severity in many states depends on whether or not the rider was wearing a helmet, but California law began requiring motorcyclists to wear helmets in 1992. Still, the lack of external protection of a motorcycle compared to an automobile leaves an accident victim vulnerable to severe injuries including the following:
Traumatic Brain Injuries (TBI)

Broken bones

Spinal cord injuries

Internal injuries

Burn injuries

Abrasions, contusions, and "road rash"

Emotional trauma and PTSD
The injuries from a motorcycle accident can leave victims with life-altering ill-effects including disfigurement, disabilities, and impairment.
San Diego Motorcycle Hazards
California's moderate weather, gorgeous beaches, and scenic winding roads offer a paradise for motorcycle enthusiasts. San Diego offers some of the most beautiful views and riding conditions in the state, including Highway 94 along the Mexico border, and the scenic mountain vistas and desert expanses of Lyon's Valley Road. But because the number of motorcycles on the San Diego roadways increases every year, so does the number of motorcycle accidents. San Diego is the 4th worst county for motorcycle deaths out of California's 58 counties.
Common hazards contributing to motorcycle accidents in San Diego include the following:
San Diego's busy urban areas contain high traffic concentrations and are where 65% of motorcycle crashes occur

Over 50% of fatal crashes occur on the weekends when more people drive on scenic routes and more people drink alcohol

San Diego has many older and retired residents who finally buy the motorcycle they've always wanted

San Diego is a destination for military men back from deployment who buy motorcycles upon their return

California's lane-splitting law results in more accidents caused by vehicles changing lanes while a motorcycle is in a blind spot
While driving a motorcycle in San Diego can be an exhilarating experience, motorcyclists should always be aware of the inherent risks and practice extra caution.
Motorcycle Safety in San Diego
While it's important not to let fear keep you from enjoying the open roads and stunning scenery you enjoy on a motorcycle, it's also critical to follow road rules and practice extra caution. Some ways to improve motorcycle safety and reduce the risk of an accident are as follows:
Wear protective gear, including a helmet, boots, and gloves. Wearing motorcycle chaps also helps to protect against road rash in the event of an accident

Take a motorcycle course or learn from an experienced friend before riding if you're new to motorcycling

Choose the right bike for your size and one that's easy for you to handle

Practice defensive driving

Be wary of cars at all times

Stay off the roads during bad weather

Avoid swerving, tailgating, and sudden stops, starts, and turns

Only use California's lane-splitting practice in slow or stopped traffic
Following these safety tips can help lower the chances of an accident or minimize the harm caused by an accident.
If you're a car driver in a popular motorcycling destination like San Diego, you can also reduce your risk of causing an accident and lower your chance of liability by following these driver safety tips:
Follow motorcycles at a safe distance

When changing lanes, turn your head to check your blind spots for motorcycles, especially in San Diego where lane-splitting is legal

Always use your turn signals, especially when driving in proximity to a motorcycle

Never drive distracted or while inebriated
Disregarding these safety tips not only puts the lives of motorcyclists at risk, but also increases your chances of liability in an accident.
What You Should Do if You're In a Motorcycle Accident
Immediately following a motorcycle accident, there are various steps to take to ensure that you have preserved your rights to maximize the amount you can recover in a claim.
BE SAFE: To avoid another collision, get away from traffic and other road dangers. If possible, move to a safe area and away from traffic.  Of course, this may not be possible in all situations.
REMAIN CALM: Approach the other driver in a calm manner. Flared tempers may lead to exacerbating your injuries or prevent you from obtaining the information you need. Be sure to not admit fault as more facts may come out later, no matter what your account of the accident might be. Photograph the accident site, including your motorcycle's damage.
SEE A MEDICAL PROFESSIONAL: Your adrenaline is likely to be flowing, preventing you from recognizing your accident injuries. Even if you feel fine, there may be internal injuries that you need to attend to. A medical examination ensures that you get the attention you need, but it also can be a strong piece of evidence used later on to show the accident was the primary cause of your damages. See a medical professional to ensure there is official documentation of your medical records.
OBTAIN INFORMATION: Exchange insurance and contact information with the other driver. Take clear photos and if possible, get the driver's license plate and phone number in case your insurance needs this information later to file a claim.
Taking these steps helps to protect your physical and financial future after an accident. Insurance companies are powerful, and their business model depends on minimizing payouts to maximize profits. By properly preparing, you can more easily prove liability and your attorney can negotiate from a position of evidence-backed strength.
Tactics Insurance Companies Commonly Use to Deny or Minimize Claims
Insurance company representatives are not in the habit of happily writing out checks, despite how friendly they might sound on the phone. Insurance adjusters are hired to find ways to undervalue claims or deny them outright. Some common tactics insurance companies use to lowball claims include:
Calling very soon after your motorcycle accident with a low settlement offer before you could possibly know the extent of the damages you'll suffer from medical expenses and more

Using a recorded line and then taking your words out of context to use against you

Seeking medical authorization, ostensibly to review records of your injury but then scouring your history to find reasons to claim your injury or pain was caused by a pre-existing condition

Denying that your doctor-recommended treatment is necessary for your type of injury

Watching your social media profile for photos of you looking well or participating in activities

Denying liability or using California's comparative negligence insurance laws to try to assign you a greater portion of fault in the accident to lower your payout
A skilled attorney understands these common strategies and how to counteract them with fact-based evidence showing liability on the part of the person at fault.
Liability Law and California's Comparative Negligence System
A seasoned San Diego accident attorney understands how to prove liability on the part of the person at fault in your motorcycle accident. Meeting the state's legal requirements for showing liability means collecting data and evidence to show the following:
That the at-fault driver owed a duty of care to take reasonable measures to keep others safe on the roadways, including motorcyclists

That they breached that duty of care by acting negligently or with recklessness or intentional wrongdoing

That the negligent or reckless act directly caused the accident and injury

That the injury victims suffered real damages due to the injury
According to California's pure comparative negligence system, victims can still recover damages even if they're found to be partly at fault for the accident. The insurance payout, settlement, or court award a victim receives is reduced by their percentage of fault. In this way, a motorcycle accident victim could still receive 80% compensation for their damages even if they were 20% at fault for the accident.
What Financial Compensation Could I Receive From a Motorcycle Accident Claim?
Motorcycle accidents commonly result in severe and even grave injuries. These injuries have life-altering consequences. A successful motorcycle accident claim should not only recover compensation for property damage, but also for your injuries. You can recover the following damages:
Medical costs and future expenses for further care and treatment

Lost pay and future lost earnings in you have more treatment and recovery time planned to address injuries

Diminished earning capacity if your injuries were disabling

Pain and suffering

Trauma, PTSD, disfigurement, and other non-economic damages
While it's true that monetary compensation can't erase pain and suffering, it can help ease financial burdens and grant access to better medical care to help you recover from your injuries.
San Diego Lane Splitting Law
Lane splitting is the technique of riding between two lanes of halted or slow-moving traffic on a motorcycle. California law allows for lane splitting in a certain region and time. Drivers in automobiles are required to pay attention to motorcyclists when in the leftmost lane as lane splitting is permitted. Reckless drivers who do not look when changing lanes will be likely be found to be negligent.
How Long Do I Have to File an Accident Claim in California?
California places a two-year statute of limitations on filing personal injury claims after an accident. This time limit could be extended for injuries you didn't discover until months later, for instance, a herniated disc or complications from a fracture or whiplash injury. In this case, the limit is two years from the date you discovered the injury or should reasonably have discovered it.
Contact our San Diego Motorcycle Accident Attorney Today
If you or a loved one have been injured in a motorcycle accident, you need an experienced attorney on your side.  Motorcycle accidents typically involve severe personal injury, pain, extensive damages, and motorcyclists often face bias from at many different points in the claims process. As a result, the stakes are extremely high for victims.
Unfortunately, insurance companies often take advantage of accident victims. Having a San Diego motorcycle accident lawyer can help you to ensure you are not taken advantage of by an insurance company, and receive the compensation you need in order to recover from any injuries and move forward with your life.
Motorcyclists have the same rights as any other motorist in San Diego and deserve just compensation when they are hurt. At Haffner & Morgan, our motorcycle accident lawyers will ensure that you do not settle for any amount less than you deserve. We fight for our clients rights and walk along you every step of the way. Our San Diego motorcycle accident attorneys will work hard and do everything we can to get the compensation you deserve. Contact the San Diego personal injury lawyers at Haffner & Morgan to discuss your claim or call (619) 541-8787 for your free consultation today.