Why San Diego Insurance Bad Faith Lawyers?
People buy insurance for the peace of mind that comes with not worrying about an unexpected loss. Of course, an insurance company should investigate claims and only pay for losses covered under a policy. However, when an insurance company acts unreasonably or unfairly with the intent of denying a valid claim, it has acted in Bad Faith. Our San Diego personal injury lawyers have extensive experience in handling these type of claims.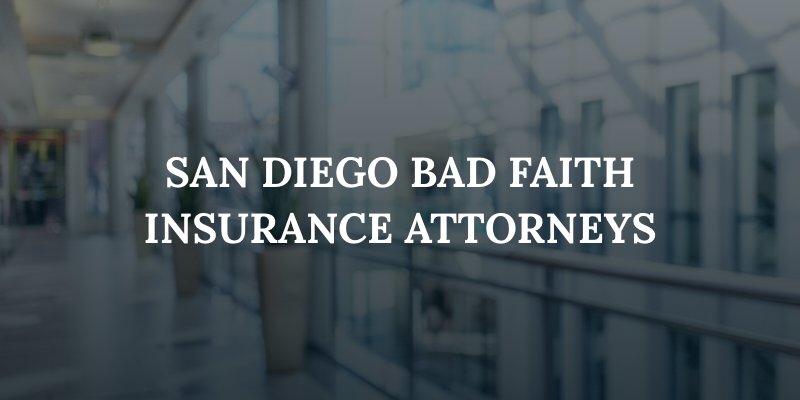 What is Insurance Bad Faith?
We might think that insurance companies exist to offer us the protection we pay for, but in truth, private insurance companies exist to make profits. Their profit margin depends on taking in more money from premiums than they pay out in claims. Insurance companies hire claim adjusters for the specific job of finding reasons to minimize claim payouts or to deny claims altogether. When an insurance company fails to meet the obligations they have under contract to a policyholder, they're committing an actionable act of bad faith. Sometimes they purposely misinterpret the language of the policy in order to renege on their obligations to policy-holders or they prolong the investigation period beyond a reasonable period in the hopes of a fast, low-balled settlement agreement.
Insurance companies can act in Bad Faith in many different ways, such as:
Only paying partial benefits
Failing to defend an insured against a third-party claim
Denying coverage for a valid claim
Unreasonably refusing to settle with a third party
Failing to properly investigate a claim
Only offering an unreasonably low amount in settlement
Causing undue delay in claims processing
Accusing an insured of fraud as a pretext to refuse to pay a claim
Cancelling a policy in order to avoid honoring a claim.
Due to the natural imbalance of power between a huge insurance company and an individual policyholder, a policyholder stands little chance of prevailing against an insurance company. Sometimes insurance companies threaten an appeal to an arbitration award in an attempt to compel the policyholder to sign an undervalued settlement agreement. Fortunately, the law provides a remedy for a policyholder to help level the playing field, which is a cause of action for Bad Faith.
Common Tactics Vs. Insurance Bad Faith
Not all insurance company methods are considered bad faith, even if they are practices you don't anticipate. Insurance companies never happily write out checks and use some common tactics to deny claims or to undervalue them to minimize the amount they pay out on a claim. While some of these methods may seem unfair and even underhanded, they don't typically constitute bad faith claims. An experienced attorney expects these common tactics and understands how to counteract them. Some common tactics insurance companies use to undervalue or deny claims outright include the following:
Calling with a low settlement officer in the first few days after an accident before you could possibly know the extent of your damages

Calling on a recorded line with a friendly tone and then using your words out of context against you

Gaining a medical authorization to review the extent of your injury and then also examining your medical history to look for pre-existing conditions and then claiming the pain from injury is from a pre-existing condition

Claiming your injuries can't be as bad as you claim based on a low level of damage to your vehicle

Denying medical compensation for your doctor-recommended treatment based on claims by their own medical experts that the treatment isn't necessary for your injuries
While these and other methods used by insurance companies may leave policyholders feeling taken advantage of if they don't have a skilled attorney to counteract them, but they don't typically rise to the level of bad faith insurance practices.
Types of Bad Faith Insurance Denials Common in California
When we pay into an insurance policy, we naturally expect our insurance provider to pay out on our legitimate claims based on the language of the policies we sign. Unfortunately, the following common examples of bad-faith insurance denials in California show that they often don't live up to their promises and obligations:
Health insurance claim denials for treatments or procedures covered under the policy

Denying a claim by stating the treatment wasn't a medical necessity i.e. after a car accident injury

Claiming a treatment is experimental or investigational

Disability claim denials

Life insurance pay-out denials

Property insurance denials

Rescinding a policy after a claim
It's an injustice when an insurance company uses bad faith tactics to deny a legitimate claim. While the courts once treated these denied claims as a simple breach of contract and might only demand a company pay the amount of the original benefit, now the courts agree that insurance companies have a duty of fair dealing and good faith with their clients beyond the contract, allowing denied policyholders to sue the company on a torte claim for bad faith and receive damages awards.
Proving a Bad Faith Insurance Claim
An attorney with years of experience in insurance company bad faith claims can help you by reviewing the unique facts of your case and gathering the evidence you need to prove you have a valid claim and that your insurance company failed to meet a contractual obligation. Proving an act of bad faith on the part of the provider involves the following points:
Proving that benefits were owed to you based on the specific language of the policy

That the provider's decision to withhold the benefits was unreasonable

Proving that the insurance company lacked proper cause for withholding the benefits under the policy terms or California law
If you have reason to anticipate a claim denial in bad faith by your insurance company it's extremely important to document and keep all records regarding the original incident and your correspondence with the insurance company. Take careful, dated notes on all verbal exchanges with the provider as well so your attorney can begin to piece together the facts and timeline of your case.
Are Punitive Damages Available for Bad Faith Insurance Claims?
In cases of particularly egregious bad faith acts by insurance companies, a policy holder denied their claim may seek punitive damages. While most damages in torte cases serve to compensate the plaintiff for the economic and non-economic costs listed in their claim, punitive damages aren't intended as compensation even though they're awarded to the plaintiff. Instead, punitive damages serve to punish the defendant—in this case the insurance company—for their actions. Punitive damages also help to deter repeat behavior.
In courtroom litigation, punitive damages can substantially increase the amount of the award. A successful claim for punitive damages require proving that the insurance company acted with:
Maliciousness

Fraudulence

Oppressive or threatening behavior
Asking for punitive damages is particularly appropriate when an insurance company has made a practice of these bad faith acts, such as including them in their established policies or if the denied policyholder is elderly or disabled.
What to Do If You Think Your Insurance Company Has Acted in Bad Faith
It can be very disheartening to learn that your insurance company isn't living up to the terms of the policy in the way they promised according to the terms of your contract, probably sold to you by a smiling, friendly salesperson or a comforting ad. If you think your insurer has acted in bad faith, take the following steps:
Save and organize by date all communications between yourself and the insurer

Write down the names of any rep that you communicate with

Send letters to the insurance adjuster and company president explaining the experience and your insurer's decision

Gather all documents and contact the bad faith insurance lawyers at Haffner & Morgan and then direct all further communication to your lawyer
At Haffner & Morgan we understand your frustration and we advocate for your rights and best interests while holding powerful insurance companies liable.
Why You Need Haffner & Morgan to Represent You in Your Bad Faith Insurance Claim
It is particularly difficult for a policyholder to fight an insurance company while simultaneously dealing with the underlying loss. The experienced attorneys at Haffner & Morgan are here to help navigate the treacherous waters of fighting an insurance company that unreasonably refuses to honor a valid claim.
There are several options available to policyholders whose insurance company commits acts of bad faith. A skilled attorney can help you recover the following damages:
The benefits you were due under the original policy contract

Interest on the unpaid benefit

Bad faith damages for economic consequences related to the denied claim

Emotional distress awards

Attorney's fees

Punitive damages in cases of egregious bad faith practices
Contact a San Diego Insurance Bad Faith lawyer today for a free consultation, or call (619) 541-8787.