At Haffner & Morgan of San Diego, we understand the serious consequences of slip-and-fall accidents. In the U.S, slip-and-fall incidents account for over 3 million emergency room visits. They are also a major cause of lost work days and workers' compensation claims. Serious consequences for slip-and-fall accidents are especially harmful to older Americans, sometimes causing devastating hip fractures that increase the chances of a second fall. 
All slip-and-fall accidents are painful and upsetting, but when it happens due to someone else's negligence, it's even more frustrating to endure the pain and expense of recovery. In some cases, slip-and-fall accidents in California fall under the state's premises liability laws. Victims can not only achieve justice in cases where someone was at fault for the accident, but they can also gain the financial compensation and damages they deserve so they can focus on their recovery. Our San Diego personal injury lawyers have extensive experience handling slip-and-fall cases.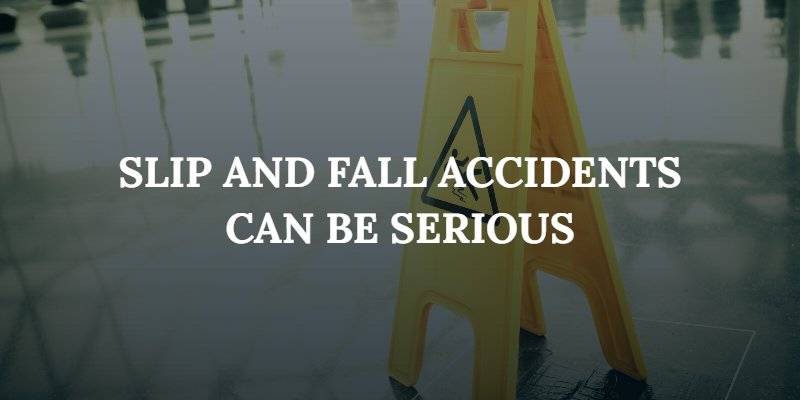 When Do Slip and Fall Accidents Fall Under California's Premises Liability Laws?
Unlike falls inside your own home, some slip-and-fall accidents that occur outside the home have a direct link to someone else's negligence. When negligence led to a fall, a victim can file a successful liability claim. A person is negligent in a slip and fall accident under the following circumstances:
An owner or manager created the dangerous condition

They knew about a hazardous condition and didn't rectify it

They weren't aware of the danger of the condition when any person taking reasonable care would have understood that it presented a hazard

They failed to prevent the hazard or to provide adequate warning about the hazard, such as placing "Wet Floor" signs in a business after mopping or a spill.
Most premises liability claims involve negligence on the part of a property owner or manager. California law demands that property owners must take reasonable care to maintain their property in a manner that keeps it safe for guests, customers, or patrons. If they fail to take that care and it causes a visitor to fall, the property owner or manager is liable for the injuries.
The attorneys at Haffner & Morgan work diligently on behalf of every client injured in a slip-and-fall accident to ensure they gain the financial compensation they deserve.
What to Do After a Slip-and-Fall Accident in San Diego
It can be difficult to keep a clear head if you've just had a bad fall, especially if it occurred in a public setting when embarrassment might add to your pain and trauma. But by taking some steps while you wait for help, you can help protect yourself both physically and financially. Use your phone or ask someone nearby to use it for you to do the following:
Call 911 to ask for emergency services to transport you to a hospital

Take photos of the hazard that caused your fall, whether it's water or debris on the floor, an uneven stair riser, a power cord or cable, loose carpeting, or any other contributing factor

Take photos of any visible injuries

Collect the contact information of eyewitnesses

Record your own statement about exactly how your fall occurred while it's fresh in your mind since trauma can cause you to forget details later

Ask the property owner or manager to fill out an accident report

Accept the ride to the hospital and ask for a full medical evaluation once you're there

Ask the doctor to give you a copy of the medical report with details about your injury, their recommended treatment, and your prognosis

Keep all medical bills and invoices

Call a San Diego Slip-and-fall attorney before speaking to any insurance representatives about your fall
Insurance representatives never happily write out checks and often use recognizable strategies to lowball or deny claims. A skilled attorney knows how to counteract these tactics in order to secure the most compensation possible for your damages.
Common Insurance Company Tactics to Deny or Lowball Fall Claims
Insurance companies rely on minimizing their payouts to secure their profit margins. This means they may attempt to minimize your claim or deny it completely using the following common strategies:
Calling you soon after your fall to offer a settlement that's almost always significantly less than your claim will be worth after you've paid for damages like medical bills and added up your lost income

Recording phone calls and politely asking how you're feeling and then using your words out of context against you

Combing through your social media in the hopes of finding you looking fit and active in a photo even if you were truly in pain when the picture was taken

Asking for access to your medical records to examine your injury report and then searching through your medical history to cite pre-existing conditions they'll claim are the true cause of your pain
Not all tactics are bad faith moves on the part of insurers, but it's common for them to seek to avoid large payouts. It's best to hire a personal injury attorney with years of experience in this type of claim and then direct all communication with the insurance company to your lawyer.
How Do I Prove a Slip-and-Fall Case?
In order to have a successful slip-and-fall claim in California, victims must prove negligence on the part of the property owner or manager. Typically this involves collecting evidence such as the following:
Doctor's treatment notes 

Medical bills

Surveillance video footage of the incident

Witness statements

Photos of the accident scene

Pay stubs or W2 forms showing typical monthly income before the accident

Testimony from experts in accident reconstruction
Experienced slip-and-fall lawyers know how to gather the evidence needed to prove liability in slip-and-fall injuries.
Demonstrating Liability in Slip-and-Fall Cases
When a commercial or private property owner fails to take the measures a reasonable person would have in the same circumstances, and the result is an accident that was entirely preventable and caused injury, they are liable for the damages. The owner's property insurance policy must compensate you for your injury-related expenses.
The plaintiff (injury victim) bears the burden of proving the property owner liable through a preponderance of the evidence. An experienced slip-and-fall attorney understands how to investigate the circumstances of an accident and gather evidence to support your claim by demonstrating the following legal points of liability on the part of the property owner:
That they had a duty of reasonable care to prevent injuries

That they failed in this duty by acting negligently

That their negligence directly caused your injury

You've experienced significant economic and non-economic damages from the injury
Once your attorney shows how the defendant is liable in your injury case and calculates your damages, they'll send a compelling demand letter to the insurance company.
What Damages are Possible in a Slip-and-Fall Case?
If the defendant is provably negligent in a slip-and-fall claim, victims are typically entitled to financial compensation for the damages they experienced. Compensatory damages may include monetary awards covering:
Medical bills

Lost wages and future lost earnings

Pain and Suffering

In some cases, punitive damages
Punitive damages are sometimes awarded in California premises liability cases if the defendant's behavior was particularly egregious or reckless and resulted in catastrophic injury, disability, or wrongful death.
Why Choose Haffner & Morgan For Your Slip-and-Fall Accident Claim?
At Haffner & Morgan, we understand the serious and sometimes long-term impacts a slip-and-fall accident can have on your finances and your quality of life. Our San Diego attorneys are skilled, experienced, and ready to use diligent investigative procedures to gather evidence and advocate for full compensation for your injury. Contact Haffner & Morgan today so we can evaluate your case with a free consultation. Our firm specializes in other practice areas such as car accidents, truck accidents, wrongful death, and more.