San Diego Pedestrian Accidents: Why Choose Haffner & Morgan?
If you were injured while walking, the chances are it wasn't your fault. We've seen clients injured by negligent drivers, raised sidewalks, intrusive tree roots, slippery store floors, and even police officers driving recklessly. Pedestrians can sustain life-altering injuries due to these accidents.
The San Diego pedestrian accident lawyers at Haffner & Morgan have years of experience in helping the personal injury victims of pedestrian accidents get compensated. You deserve the compensation necessary to tackle medical bills, injury recovery, pain and suffering damages, lost income, and more. We provide free initial consultations and all of our pedestrian accident cases are taken on a contingency (no recovery, no fee) basis.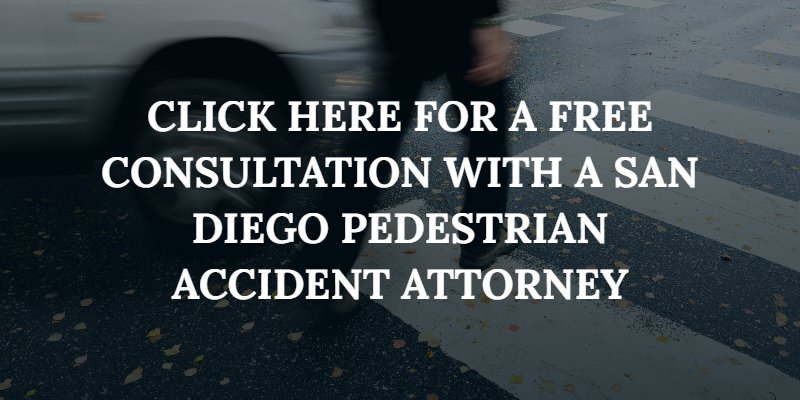 Common Causes of Pedestrian Accidents
The most common causes of pedestrian accidents are:
Impaired drivers
Nearby traffic or car accidents
Impatient drivers
Recklessness
Bad weather
Wearing dark clothes at night
Road construction
Vehicles making left turns
What the majority of our clients almost always have in common is that they were simply going about their day when they were injured as a result of someone's mistake. Accidents certainly happen, but if you were injured at no fault of your own, you should not have to bear the burden of your injuries. California law is almost always on the injured party's side in a pedestrian accident, it is our job to fight vigorously to show the extent of our client's injuries and how those injuries pervade into their lives.
What To Do After A Pedestrian Accident?
Pedestrian accidents are often critical and require immediate medical attention. While going through such a large catastrophe can be confusing and disconcerting for everyone involved, there are a couple of legal considerations that must be taken into account right away to preserve your right to maximum compensation under the laws. Here are some things to keep in mind immediately following an accident:
Get the Driver's Information – Most importantly, be sure to get the driver's information so that you can contact them later and your insurance can find them if needed. Also, if there are other witnesses, try and get their contact information as well. If possible, try and document the scene with pictures.

Contact the Police – An official police report can help to get the necessary information and stories. Because police reports are official legal documents, they serve as strong pieces of evidence.

Seek Medical Attention – Seeing a healthcare provider is crucial to assess for any internal damages. However, seeing a healthcare provider also has a dual purpose. By seeking attention immediately after the accident, you'll have an official medical record that can help to prove causation of the accident and the extent of actual damages suffered.

Prepare to Give Statements – Almost immediately after the incident, insurance companies will want to get involved. Both yours and the driver's insurance company may want you to give an official statement. Note that these statements can be used as strong pieces of evidence to assess your pedestrian accident claim. If the case proceeds to legal review, these statements may be used as evidence or referred back to during deposition or testimony. Because of the weight of these statements, it is important to recollect your thoughts to the best of your ability. Reaching out to a San Diego pedestrian accident lawyer preemptively can help you to prepare your statement and best discuss how to account for any pieces you might be missing.
Recoverable Damages for Pedestrian Accidents
Due to the severity of pedestrian accidents, a victim may be able to claim high compensation for the injuries. Compensation for an accident can be crucial to the longevity of a victim and the victim's loved ones. In the case of a catastrophic injury, such as brain damage or paralysis, the compensation received may be necessary to help support the payment of a lifetime of specialized care.
Some recoverable damages include:
Past and Future Medical Expenses
Lost Wages
Lost of Future Earning Capacity
Compensation for Pain & Suffering
Compensation for Emotional Distress
Loss of Enjoyment of Life
Some pedestrian accidents are so severe that they result in the death of the victim. In these cases, a beneficiary of the estate may file a wrongful death claim. A survival case may sometimes be filed first, followed by a wrongful death suit if the injuries cause the victim to be in the hospital but the victim does not pass immediately. Surviving members of the victim who can file for compensation in a wrongful death claim are:
Spouse of the victim
Children of the victim
Parents and step children of the victim, if the victim was the primary source of financial support
Other qualified relatives if the victim had no surviving children
How a San Diego Pedestrian Accident Lawyer at Haffner & Morgan Can Help
The cost, time, and stress that results after a pedestrian accident is often overwhelming. If you believe your injury was the result of another's negligence, or if you have insurance that you believe should cover your injury, the attorneys at Haffner & Morgan law firm can help you in both your financial and physical recovery. Consultations are available at no cost to you, and no fees are taken unless you obtain a settlement or positive jury verdict.
Choosing the Right Attorney for Your Case
At Haffner & Morgan we are experienced in handling slip and falls, sidewalk accidents, and auto versus pedestrian accidents. Through that experience we have learned to focus on the client. By connecting with you and understanding how your injuries affect your life, we are able to do our best work and bring you the results that you deserve.
In all matters, we are ethical, aggressive and tireless advocates for our clients. Our expertise and experience make us well equipped to handle even the most complex matters. If you or a loved one is a victim of a pedestrian accident and has sustained an injury, contact our San Diego pedestrian accident attorneys today for a free case evaluation, or call (619) 541-8787.